In the UK, Rabbits are classed as a major agricultural and horticultural pest. It is estimated that Rabbits cause in excess of £100 million worth of damage to agricultural and horticultural land each year. Under the 1954 Pests Act, landowners are obliged to actively control the Rabbit population on their land. Rabbits not only cause millions of pounds worth of damage to agricultural and horticultural land, they may also cause damage to managed woodlands, amenity, recreational and leisure facilities creating public health risks, they also undermine embankments, buildings and other structures.

Rabbits & hares are very effective plant destroying machines, not merely eating enough to get-by, their insatiable appetite for new things & destruction causes much damage throughout the garden.

Speculative chewing of nearly everything to find what tastes best, the uprooting of new plants, the stripping of bark from trees, and of course digging holes in your lawn for you to turn your ankle in, all make rabbits many gardener's most hated enemy.

So what can be done?

You could find a good recipe for rabbit stew, get an air rifle or ferret & go on a spree, though as everyone knows nothing breeds quite like rabbits & in most locations new bunnies will soon move in to replace the killed ones.

The best long-term answer to a rabbit problem

is to protect your garden as best as is practicable by fencing.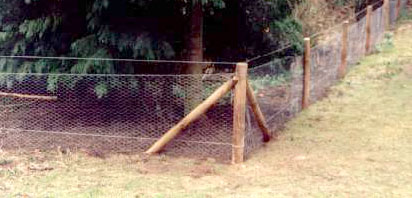 Solutions

We specialize in Rabbit & Hare control and management;

When control is required, great care is taken to find an effective solution which complies with both current legislation and the customers needs. We use various methods of control, all of which are legal and humane, ranging from traditional methods such as ferreting, trapping, long netting and shooting to more modern methods such as Aluminium Phosphide and exclusion fencing.
Aluminium Phosphide (Rabbits only) - All Aluminium Phosphide treatments are conducted by fully trained, qualified, and experienced technicians. All treatments are carried out to the manufacturers recommendations, specifications, and in accordance with UK law.
Exclusion Fencing - We can install and maintain all fencing, We only use the highest quality Rabbit netting that is guaranteed Rabbit proof. Rabbit netting is installed using our own experienced and dedicated team of installers, We can install small or large volumes of high specification Rabbit exclusion fencing efficiently and economically.

Are Rabbits or Hares causing you a problem ? then contact us for a Free no obligation quotation